2018 National Championship Event Details
The Championships will be held Dec 14th-16th. We have added a 3rd day this year.
The schedule will be:
Friday Dec 14th AR-Both Open and Lap
Saturday Dec 15th Open
Sunday Dec 16th Lap and Veteran
For discounts on hotels - https://www.akc.org/sports/conformation/national-championship/host-hotel-2018/
The 2018 NADD Competition Year will run from Oct 16th, 2017 until Oct 15th, 2018. At midnight on Oct 15th, 2018, all scores, rankings and invites are frozen.
ALL dogs that receive invites will be required to have completed:

OPEN (Including Lap & Veteran): at least 15 jumps throughout the competition year.
AIR RETRIEVE: at least 5 jumps throughout the competition year.

Each dog that earns an invite based on the criteria below MUST have the minimum listed competition jumps (15 Open or 5 Air Retrieve) throughout the 2018 season. If a dog does not have the required jumps for 2018 by midnight of Oct 15th 2018, any earned invite will be forfeited.
All invites will be sent out no later than Oct 22nd, 2018. Each invitee will have until Nov 5th 2018 to accept.
Due to the raising costs of events, the 2018 invites will cost $70.00 for each invite.
The 2018 Championships will be run the same as the 2017.

We will use the Plus 1 jumping system for finals.
We will have the CAP system in place. (18 inches for Open, 12 inches for Lap)
Updated info 11/22/18
Congratulations on your dog(s) competing in the 2018 NADD/ AKC National Championship sponsored by Eukanuba. This is our 5th year and we are so excited. If you have been in the past, we will have both pools located in the same area, if this is your first year, please see the attached map for info.
We are very excited for this year's Championships. This is the biggest year to date! Please remember, everyone is here to have good experience. Please don't let your specific needs and desires outweigh that everyone is here to enjoy a great event with their dog. If you have ANY issues, please do NOT get into heated discussions with other computer. Also, PLEASE treat all staff and volunteers with respect. If you have ANY issues, please go to the admin table and NADD will immediately address them in the best way we can.
(At this time, the AKC has not released the event map yet. We have waited as long as we can. We will post it publically once they do share it)
We will be in the Orange County Convention Center SOUTH Building.
Entrance (Loading and Unloading and Parking)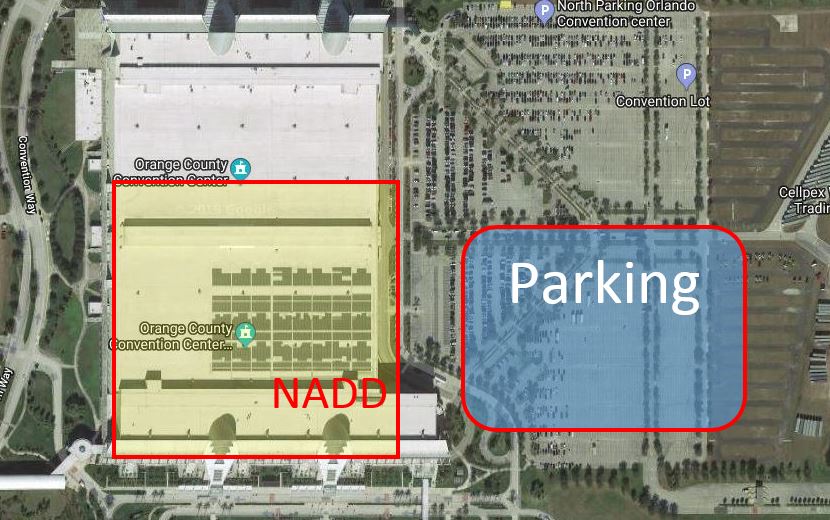 There is a marked unloading area. You must be ready to get your stuff out of your car and move along rather quickly…they have workers monitoring this.
Once inside the building, you will EASILY see the NADD are to your immediate left (if you enter as shown on the map). The crating area will be to the right of the pools as you enter. Please , find a space, set up and remember to conserve space for others, (or we will be happy to assist you in conserving space).
The schedule for the weekend will be as follows. This schedule is tentative and may be adjusted slightly depending on the flow of competition.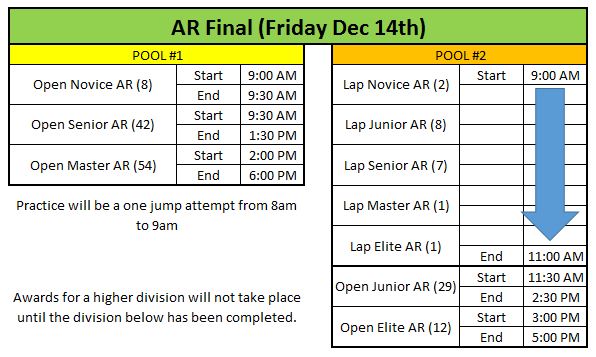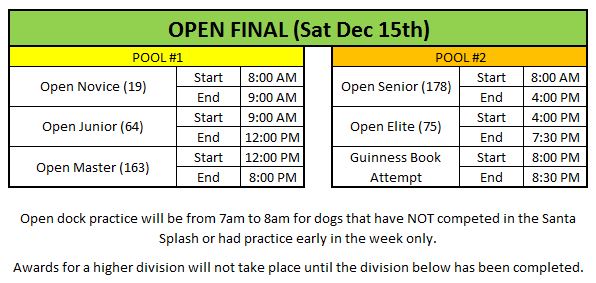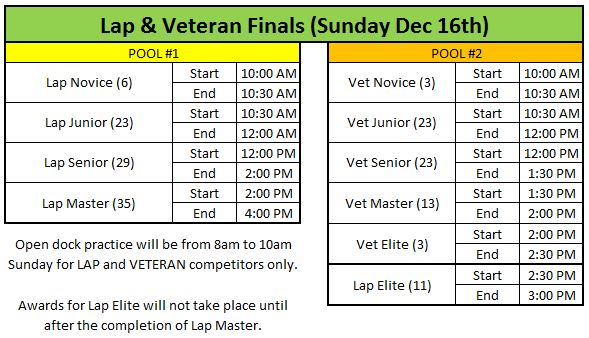 Plus -1 Finals
This means that during each division's Finals, each dog will get 2 jumps to get the best score possible. Once ALL the dogs in that division have completed their 2 jumps, we will take the TOP 10 Dogs by score. These Top 10 dogs will get to take a Plus-1 jump. This is one more jump that gives them chance to improve their scores. The Final rankings for each division will be based on the BEST score of the 3 scores from each dog.
CAP System
For each division there will be a CAP to prevent dogs from jumping way over their assigned division. As we are well aware that in a Championships, we all want our dogs to have their best jumps, the CAP will allow for each division to be expanded for the Finals Only. The expanded divisions are listed below. IF a dog jumps out of the expanded division, on any of the jumps, (this includes the Plus-1), their entire score card will be moved up to the appropriate division. IF the dogs scores allow it to compete for the Top 10 in the upper division, then the dogs scores will be calculated within that division and they will be ranked accordingly. A competitor has the right to move their dog up a division if they feel they will be jumping better than their assigned division.
Open and Veteran division Caps will be 18 inches:
Novice Division – up to 11'5"
Junior Division – up to 16'5"
Senior Division – up to 21'5"
Master Division – up to 25'5"
Elite Division – Cap not applicable
Lap division Caps will be 12 inches:
Novice Division – up to 5'11"
Junior Division – up to 9'1
Senior Division – up to 13'11"
Master Division – up to 18'11"
Elite Division – Cap not applicable
AR Cap System: The same CAP system will be used in AR, it will be 1 additional foot to each division. Also for AR start distances cannot be more than 1 foot lower than the division a dog is competing in. (ex: Senior dogs cannot start lower than 13ft)
Awards:
Awards for each division will be given out immediately following the completion of that divisions Plus one. Awards for a higher division will not be given until the division below has been completed.
Conflicts or Missed Splashes:
It is the competitors responsibility to be aware of their jump time send be present when their dog is called. If there are any conflicts, these must be addressed and arranged PRIOR to the splash starting. To avoid any possibility of missing a splash, it is better to inform NADD as early as possible.
Practice Times & Availability:
For COMPETITORS of the National Championships, there is SET FREE practice times each day (Tue-Thur) after the completion of that days Santa Splash jumps. (Approx 6 pm or 6:30 pm) Practice will only be open 2 hours. On Thursday ONLY, we will have AR practice on ONE POOL.
For Veteran and Lap dogs, there will be practice time on Sunday morning before the start of the competition. ALL PRACTICE times ill be a very quick 2 jump practice, and then you may choose to get back in line. At some point, (around one hour left) it will be announced that the line is closed and no-one will be allowed to enter the line other than the end at that point. Up until that point, dry dogs will be offered the chance to move to the front.
On Nationals Competition days, the practice information is listed above on the bottom of each days schedule.
NOTE: NADD reserves the right to remove anyone from the practice line at any time for unsportsmanlike behavior.
Tickets:
Here is the link for tickets needed for Sat and Sunday
Crate Contest:
We are having the fun crate decorating contest. You can do any theme you wish, but, your decorations can not take more space than your crate is allowed. Judging will be Saturday afternoon.
Crating:
Competitors may set up crates in the designed crating area starting Tuesday morning. Areas will be well marked. Each COMPETING dog get a basic 42 in crate size place on the floor. No chairs may block walkways or other dogs crates. We STRONGLY suggest stacking crates when possible. Please cover dogs crates to avoid excessive barking and lunging at others dog that will be pasign within a foot of your dogs crates.
(We have seen many competitors use things like tri fold display boards to create a barrier in front of their dogs create...we welcome this and similar ideas).
NADD holds the right to move and help adjust any crateing issues.
Admin:
Competitors may check in for Santa Splashes or the Championships at the Admin tent....We ask that you do not have dogs with you at this time as this area becomes very congested. You must check in to get your wristband and jump cards (for Santa Splash only) to allow you onto the dock.
For the Santa Splash Lottery, there will be clipboard posted each day for competitors to sign up. Only one name PER DOG. Drawing will be at 11 am each day.
Ribbons will be placed on a table outside of admin as soon as they are completed.
Picking up Swag bag for a friend. NADD will not ships swag bags. The person picking it up MUST have a printed or written note to give to admin to be placed on file. Screenshots, texts or emails will not be accepted. NADD will NOT be printing any notes for people at the event. This note is for SWAG bag only...(If picking up item from store, that will be separate)
NADD Store:
The NADD store is run separately from NADD admin. All questions and issues regarding store items should be addressed with them directly. The NADD Store will not open until Thursday approximately after lunch.
Pre-payed orders may be picked up STARTING Friday morning at 9am.
Championship specific gear (anything with the 5th year Championships logo) will NOT be sold until Friday morning 9 am.
Information on tickets and Hotel from the AKC:
https://www.akc.org/sports/conformation/national-championship/